Well, the holidays are long over and I have been cooking (and eating!) up a storm the first couple of months of 2016.  Now Spring Break (!) is almost upon us and not long after that…swimsuit season! (which starts early here in AZ)
It's been awhile since I've really been focusing on getting the right amount of nutrition, eating what's best for my body, and getting enough exercise.  So I decided there is no time better than the present to complete  a cleanse and get Spring started on the right foot.  I am getting started today!
Last week I visited with my friend and amazingly talented naturopathic doctor, Dr. Esti Bakty of Temple 29 on Camelback in Phoenix, AZ.  She's got a 21-Day Detox Cleanse that consists of nutrition, meal planning/guidance and IV therapy for additional vitamins and minerals to give the body a boost while cleansing.
The idea for a Detox Cleanse to rid the body of toxins that have built up over a period of time while replacing the vitamins and minerals the body is lacking.  After the 21-Day regimen, some of the items that have been eliminated can slowly be incorporated back into the diet.  Dr. Bakty says that many people find they may have a senstivity to something, as an example, gluten, that they never realized existed until they eliminated it from their diet.
According to Dr. Bakty, here are the foods to enjoy and to avoid during this reboot:
What to enjoy:
Wild-Caught deep sea fish
Proteins: free-range chicken, turkey and wild game
Vegetables (the more colors the better) and organic, if possible (review Dirty Dozen vs. Clean 15)
Beans (is there anything to note here – ex: organic, if possible or dried beans vs. canned?)
EVOO, Grape Seed Oil, or Sesame Oil (is coconut oil okay?)
Nuts & Seeds
Grains: quinoa, rice, lentils
If you must have dessert, enjoy a piece of fresh fruit
Water! (lots of water – 2-3 more liters more of water than normal consumption)
Bone Broth! (1-2 glasses per day) (see my recipe, HERE)
What to avoid:
alcohol
caffeine
sugar
soy/soy containing products
gluten
night shades
common allergens: eggs, corn, shellfish, yeast (tree nuts, if applicable)
artificial sweeteners
food additives
high glycemic / high sugar foods (ex: grapes and bananas)
Note: Organic is always the best option however, organic produce isn't always available or can be out of your budget.  Dr. Bakty recommends using the Clean 15 / Dirty Dozen list as a guideline if organic is not an option for you.  The 2015 Clean 15 / Dirty Dozen lists are pictured below.
DIRTY Dozen – Avoid eating conventionally grown produce on this list. (Highest amounts of pesticides are used when growing these items.)
CLEAN 15 – Okay to enjoy conventional produce on this list of you can't get organically grown. (Less pesticides used or thick peel in these fruits/veggies.)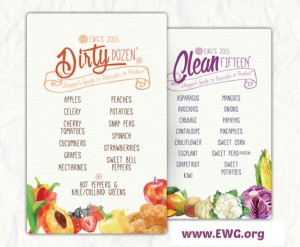 Note that this changes every year so be sure to keep yourself updated by checking the Environmental Working Group's website here.
To learn more about the 21-Day Detox Cleanse, contact Dr. Bakty at 480-747-5559 or visit her website www.Temple29.com