I love MOD PODGE! Have you used this sticky but fun craft helper? I recently used Mod Podge to help make a super fun photo collage for a Mother's Day present! This craft has two different options – make a canvas print at a fraction of the cost of ordering it – or – use a fun shaped canvas (this initial, heart, etc.) to make a canvas collage.  Either way, you can't go wrong with this fun photo DIY!
Note: this craft cost less than $5! Wal-Mart has 8×10 Canvases for $2 and I printed the photo at Wal-Greens for less than $2.  I already had the brushes, Mod Podge and black paint.  Even if you have to buy these, this craft will cost you about $10 – not bad!
Materials:
Canvas
Paintbrush
Black Paint
Mod Podge (I prefer Matte finish)
Foam Paintbrush
Paper Plate (to use as a disposable palette)
Sheet or Drop Cloth to protect your table
Photo(s)
Scissors
Directions:
Trim photo, if needed to make sure it's the right size for the canvas.  Even if you're using the same size, you'll want to trim so the photo doesn't hang off the sides.
Spread protective cloth on table.
Paint a black edge around square canvas (on sides and top)
Let dry completely
Add a second coat of black, if desired. Let dry completely.
Quickly brush Mod Podge over top of canvas, ensuring you get the entire area.
Carefully place photo on the canvas. Once in place, flip over the canvas and push down to get a good seal between the photo and the canvas.
Flip over and let dry completely.
Once dry, you need to add Mod Podge to seal the canvas. Brush the Mod Podge over the entire photo surface and sides of the canvas. (Don't worry, it dries clear!)
Let dry completely.
Add a second coat of Mod Podge, and this time, brush it in an "X" pattern, going back and firth across the photo.  – This is personal preference but Ifeel like it looks a little more artistic when it dries this way!
Let dry completely.  These are fun and inexpensive way to create a keepsake for Mom or for any occasion.  Try making several different sizes and creating a photo gallery!
OPTIONAL: If you want to do a photo collage instead of a single photo, paint the entire canvas black (or start with a black canvas!) so that way if you have any spots that photos are not overlapped, it will still blend well. See my photo of the "B" collage.  You could also do "MOM" spelled out and have photos of different kids on each letter.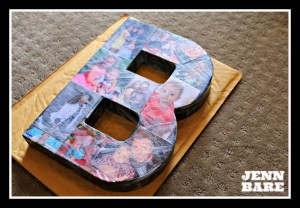 Have fun and as always, be sure to share you photos on Instagram and tag @jennbare
XOXO – Jenn