Not sure what to get mom this Mother's Day? Well, How about a gift basket to help mom out so she's not so busy in the kitchen?  Pack it full of fun kitchen utensils like measuring spoons, kitchen gadgets, new dish towels, or even slow cooker seasoning packets. (hint: HOME GOODS has cute kitchen items and they are always less than regular retail price.)
Whether mom is an expert chef or could use a little help in the kitchen, she'll love my book Get Crocked Slow Cooker 5-Ingredient Favorites AND the new Crock-Pot® 5-in-1 Multi-Cooker and it's currently $20 off!  The Multi-Cooker browns & sautés, slow cooks, roasts, bakes and steams!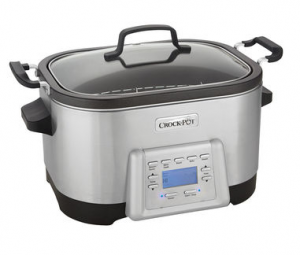 This is an all-in-one cooker from my favorite slow cooker brand so you know I had to get this right away for myself!  (WATCH ME open my Multi-Cooker on video HERE)

So far, I am loving the steaming feature! On a typical weeknight, we get home from swim practice at 5:15. My dinner is already finished in my slow cooker and then I just throw veggies in with a little water to steam while the family washes up for dinner.
Oh, and my banana bread muffins have never tasted any better!
Visit Crock-Pot.com now to get the Crock-Pot® Multi-Cooker for $149.99!
Happy Mother's Day to all the Mamas out there!
XOXO – Jenn