It's the holidays and the busiest travel season of the year.  Whether you're an expert or a novice – traveling with the family can be a bit easier if you follow these simple tips.
1.  Invest wisely in the best travel items.  Yes, I said invest – many of the most convenient travel items can cost a pretty penny.  My experience is if you invest in well-made, quality and functional products they will get years of use and are well-worth the initial cost.
A few of my travel must-haves:
Lotus Travel Crib.  This portable crib/play yard boasts 15-second setup and folds into the provided backpack. (Yes, backpack!) You can carry it on a flight and if the flight gets delayed, you've got a portable play yard for baby so he's not stuck in his carrier all day!
A Soft baby carrier like this one from Ergo Baby. This is a must-have for traveling.  I strap baby to my chest during the flight so that my hands are free and I can read and also help my 6-year old as needed.  Upon arrival, there may be places that are not stroller friendly, so the baby carrier is important for being able to explore with the family without restrictions.

Trunki from Melissa & Doug.  I always make sure my daughter has her own special travel bag. She takes ownership of the bag and it's one less thing I have to carry! At 3 years old, she was gifted this Trunki suitcase which can be pulled by your little one, or they can ride and you can pull!  Either way, you'll never have to say "hurry up!" when you're in a rush to get to the gate.  Instead say "hop on!" and pull kiddo through the airport as he says "wheeeee" all the way!
Kids-Safe Headphones.  If you've got kids who enjoy movies or games on tablets or other devices, get these volume control headphones from Buddy Safe.  Not only do they limit the volume to a safe level for kids, they also have built-in splitters so up to 4 headphones can be connected together.  That means multiple kids can watch (and listen to) the same movie!
2. Keep the Kids Busy with toys and crafts.  I like to buy a few small toys or crafts and keep them hidden before the trip so the interest lasts longer on the flight!  If your child has a tablet, you can surprise him with a new game download or a new movie.
A few of my favorite travel games and toys:
Wiki Stix – lightweight, bendable sculpting sticks that will keep the kiddos busy creating for at least an hour! They are non-marking and don't make a mess.  (mom and dad love them too!)
Bring games that travel well, like Spot-It which is a fun matching game for all ages.  This provides family fun on the flight and at the hotel!
Non-rolling crayons and other travel-friendly art products from Crayola for the budding artist in your family. I especially like the Color Wonder marker sets which only appear on the provided special coloring book. This set comes with a travel-friendly case as well.
3. Pack plenty of snacks! Be prepared with an array of snacks in single-sized servings.  This means less chance of contamination and if junior dumps the bag of raisins on the plane, you don't have to pitch the entire bag.  You can easily make your own single servings using fun containers like these Snack-A-Pillar cups that hold solids or liquids and seal & stack perfectly.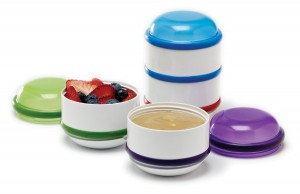 Some of my favorite flight snacks: fruit strips, dried fruit, trail mix, carrot sticks, apple slices, peanut butter, bananas, and a "treat" like a piece of gum or chocolate to tuck away for the perfect moment.
4. Remember the Necessities! I learned the hard way that I should always pack a change of clothes for baby AND myself on a flight with my then 4-month-old daughter.  I will spare you the details but lets just say I could not wait to get baby out of her Baby Bjorn and into the tub when we arrived home!
My air travel with baby necessities (pack these in your carry-on bag!):
At least one complete change of clothes for baby and at least an extra shirt for mom/dad.
Diaper Packs – I make my own diaper packs in case I need to change baby on the flight.  Instead of scrounging through the diaper bag, (and who wants to bring it in the bathroom on a plane – ick!) I can just grab a diaper pack.

To assemble: Start with a quart sized baggie and place one diaper, a sandwich baggie sealed with 3 baby wipes, and a disposable changing pad.
After changing, the dirty diaper goes into the quart sized baggie and in the trash.  (Your fellow passengers will surely be thankful that you sealed that stinky diaper up!)
If you don't need all 3 of the wipes for the diaper change, take a second to wipe down baby's face and hands, especially if he's been touching everything on the plane as mine like to!

Speaking of wipes…I always bring individual sanitizing hand wipes and I stash them everywhere!  In my diaper packs (Have you tried washing your hands while holding a baby in an airplane bathroom??!), in the snack bags, every carry-on bag and in my daughter's suitcase or backpack.  Whenever there are sticky or germ-y hands, a sanitizing wipe is close by!
Disinfecting cleaning wipes even come in these nifty travel packs and are perfect for wiping down that tray table your kids (and you) will use during the flight.
An "airplane only" stuffed animal and blanket.  Unless you will have access to a washing machine when you reach your destination, select a blanket and snuggle item that will only be used on the plane ride to your destination.  These items will be exposed to all the elements on the airplane – so wash them at your destination or set them aside and forget about them until you get home!  (I like these muslin swaddle blankets because they take up so little room in your diaper bag + if in a pinch you could wash by hand at your hotel.  They are so lightweight that they dry pretty quickly.)
Finally, you've got to remember bottles, formula/food and pacifiers (like these that close automatically when dropped!) for baby.  Pack twice as much milk/food as you think you'll need.  If your flight gets delayed you won't be in a pinch without food for baby.  When my kids were still drinking formula, I packed the pre-measured amounts in a formula dispenser and bought a few bottles of water once I was through security and made bottles as needed.  However, you could pre-fill baby's bottles with water from home as TSA does allow for exceptions to the 3.4 oz. liquid rule for formula, breast milk and other medically necessary items in reasonable quantities. See the latest details from TSA HERE.
5. Finally, be smart about booking travel.  Colleen Lanin, the "Travel Mama" and founder of TravelMamas.com suggests booking a flight that leaves early in the morning, especially during holiday travel.  It only takes one city experiencing extreme weather to cause flight delays all over the country.  If you book an early flight, you're more likely to get to your destination as planned.  If your destination is far, consider booking a flight with a stop so everyone can deplane, stretch out and burn off some energy after the first leg of your journey.
Get additional travel tips for Mamas (and Dads!) in Colleen's book The Travel Mamas' Guide: How to vacation with babies and children…and stay sane!

What are your family travel favorites?  I'd love to hear what you must have when traveling with kids!
XO – Jenn