My daughter Bali and I had a blast making these PARTY POPPERS at home! They are perfect for any celebration.  We are bringing ours to the neighborhood 4th of July celebration – much safer than fireworks!
This is a simple DIY craft that you can make with your kids, too.  Save those toilet paper rolls! 🙂
Materials:
Tissue Paper, cut into rectangles
Empty Toilet Paper Rolls
Curling Ribbon
Confetti
Tape
Cracker Snaps (stick kind – seen here)
Scissors
Directions:
Tape one popper inside each toilet paper roll
Secure one side of the tissue paper on the TP roll and roll to cover.  Tape to secure other side.
Twist one end of the tissue paper and tie it with ribbon.
Holding the secured end of the tissue paper, carefully pour confetti into open end of tissue paper.
Twist and secure open end with ribbon. Make sure it's nice and tight.
Curl ends of ribbon with scissors.
Trim ends of each popper so that tissue paper and popper stick are aligned.
TIP: If you have a little one who isn't able to participate much on this craft, give him/her some stickers to decorate the outside of the poppers once you are finished making them.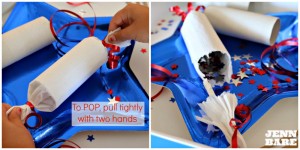 Hand out poppers at your celebration.  To "pop" tightly hold each end of the tissue paper & popper stick then pull apart tightly.  You'll hear a "pop" and the confetti will shoot out everywhere.
Enjoy!
Did you make this craft? Instagram your pics and tag me, @jennbare.
xo –
Jenn