It's here, it's here! It's finally back to school time!  Don't get me wrong, summer has been a blast but if your kiddos are like mine, they are ready to be back at school with friends, learning and fun!  Every year I do my research to find the perfect backpack and this year, I've compiled my list of favorite backpacks – whether you have a girly-girl, a big kid, an athlete or a little one at home that wants a backpack of his own.  Read on!
BUBBLE by MadPax
Perfect For: The Trendsetter
Price Range: $60
– We heart MADPAX in our house! From their trendsetting spiked backpacks to the fun colors of this "bubble" backpack there is  a backpack for every kid.  This BUBBLE bag was Bali's pick for last year.  Form, function AND fashion – it has it all! Bonus: easily spot cleans AND MadPax is a big contributor to school supplies drives for foster kids.
Click here for details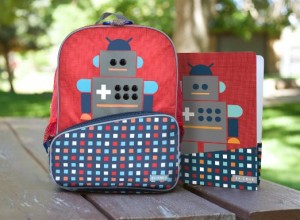 Toddler Robot Backpack by JJ Cole
Perfect For: your toddler who wants to be a big kid, preschoolers
Price Range: $25
– This backpack is adorable, comes with a matching folder AND I love that JJ Cole has coordinating accessories.  This is my pick for my toddler, Maverick. While he's not yet to preschool yet, he brings this bag, matching snack (lunch) bag and mat to grandmas house.  It's also great for traveling and the mat is perfect for a midday snooze in the hotel room.
Click here for details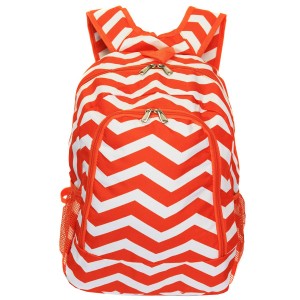 World Traveler Multipurpose Backpack by World Traveler
Perfect For: Kids of all ages
Price Range: $25 – $40
– This bag is MACHINE WASHABLE and comes in a variety of colors and patterens.  From 5 year olds to college students, there is a design for everyone.  Best asset: durable and easy to clean
Click here for details
Lightweight Casual Canvas Backpack by Leaper
Perfect For: the hispter
Price Range: $28 – $32
– Durable, comfortable with LOTS of pockets! This bag that can double as a backpack or overnight bag for your hipster college (or high school!) student.
Click here for details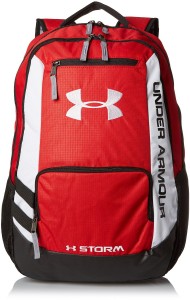 Hustle Backpack by Under Armour
Perfect For: the jock
Price Range: $40 – $80 (varies based on color)
– Easily goes from school to practice. 2 water bottle holders PLUS a laundry pouch!
Click here for details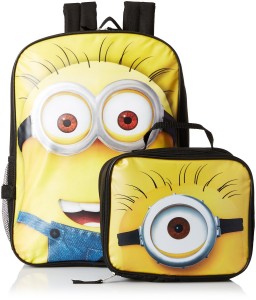 Minion Backpack and Lunch Sack by Despicable Me
Perfect For: Your little guy or gal
Price Range: $33
– Every kid goes crazy for some of America's most loved characters – the Minions! Features adjustable straps + a lunch box that fastens to the backpack so kiddo has less to carry.
Click here for details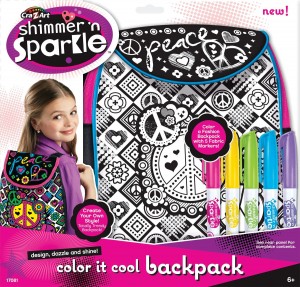 Cra-Z-Art Shimmer & Sparkle Color Your Own Backpack by Cra-Z-Art
Perfect For: the budding artist
Price Range: $15-20
– While smaller than a traditional backpack, your budding artist will appreciate the ability to express her creativity with this color your own backpack.  Perfect size to bring to the gym or after school practice.
Click here for details
Do you buy a new backpack every year or recycle an old one?  I always reuse when I can but kids can be so tough on them!