The holidays are a great time to celebrate family traditions.  One mine adopted and has celebrated in some way each year is giving back to others in need.  Our level of participation varies from year to year  – we've always given what we could.  Even as a child when we didn't have much, we baked cookies and brought them to elderly neighbors (and stayed to visit) just to spread a little holiday cheer.
Now that I'm a "grown up" and have a family of my own, I want to pass down the same sense of kindness to my children.  While my son Maverick (almost 1!) is not quite old enough, daughter Bali (6) is starting to understand the importance of helping others. (and she loves it which warms my heart!) We had a blast doing Random Acts of Kindness this past summer and we couldn't wait to help others over the holidays.
Here are some easy and inexpensive ways to give back to those in need over the holidays::: – You can also see my video segment highlighting these ideas on ABC15 news in Phoenix HERE.
– – -Host a Pajama Drive – – –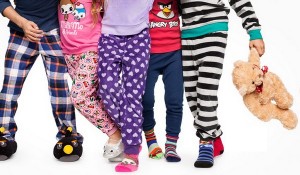 There is something so comforting about a new pair of warm jammies.  As a child, we were visited by the PJ Elf who brought us new Christmas jammies each year while we were at mass on Christmas Eve.  For some reason the new pajamas helped me sleep better even with the anticipation of waking up Christmas morning to find what Santa had brought us overnight.
Many children never get a new pair of jammies.  They either wear hand-me-downs from siblings or old t-shirts and sweats. The idea of hosting a pajama drive was inspired by my neighbor, Jessica.  Each year she collects new pajamas from friends and family, wraps and donates them to a school in a low-income area.  It may be hard to believe but a gift so simple – a new pair of warm pj's – could really be magical to a child!
How to organize and get the kids involved:
Select an organization or school that could benefit from your donations.  Call them to understand the greatest needs and make arrangements for delivery date and location.
Explain the Pajama Drive to your kids and the importance of giving back over the holidays (or any time of year!)
Set a drive end date and drop-off location. If your kids are creative, have them make a flyer. Find a simple example here.
Along with your kids, reach out to friends, family members, families from school or other organizations you frequent and ask for donations. Personal phone calls from kids go a long way!
Collect donations through the drive end date and don't be afraid to reach out to those who said they would donate but haven't yet. Perhaps they just need someone to pick up the donations.  They may have even run out of time and would be happy to make a monetary donation if you're willing to shop for the jammies.
Wrap the pajama donations with your kids.  Be sure to label if the pj's are boy/girl and the size. Play Christmas music and enjoy this special time with your children!
Bring the wrapped pajamas to the organization you have selected.  Make sure you bring the kids so that they can experience the joy of giving first-hand.
Afterwards: discuss the importance of giving back and helping others with your children.  This is a perfect discussion to have over hot cocoa. 🙂
– – – Donate Toys or Other Items- – –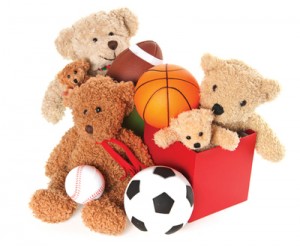 There are so many parents who could use your help this holiday season!  Many organizations collect toys so that all kids can have something special to open during the holidays.  Check with your local family shelter or head to your nearest Chevrolet dealership and donate a new, unwrapped toy to Toys for Tots.  Find a list of Toys for Tots Drop-Off locations HERE.
Consider other needs this time of year too.  My local homeless family shelter, Family Promise, actually has a non-Christmas/Toy need this year. Families graduate monthly from the shelter's assistance program and are given a "starter kit" to help them get on their feet as they enter their new homes.  This starter kit includes things like bus passes, small kitchen tools, grocery cards, and even a birthday present for each child so the parents don't have to stress about buying a gift when that time of year arrives.  Food pantries can use your donations too!
How to organize and get the kids involved:
Select an organization who could use your donations.
If the organization accepts gently used items, have the kids select toys and clothing items of their own that they would like to donate or take them shopping to select new items for kids in need.
Bring the kiddos with you when you deliver the items. Coordinate your delivery at a time when volunteers are needed.  Help serve  a meal or spend time playing with the kids in the shelter.
Again, discuss the importance of giving back with your kids.  Ask them how they felt and what they have learned.
You can find  a directory of homeless shelters for families HERE.
– – – Random Racks of Christmas Kindness (RACK) – – –

Last summer my daughter and I completed Random Acts of Kindness around our community.  This included little things like bringing ice cream to kids who could use a cool treat and delivering gatorade to mail carriers or anyone we saw working outside during the scorching Arizona summer.
This holiday season we've been following a Random Acts of Christmas Kindness calendar to keep us on track.  Here is a simple one (downloadable) that I found at a nifty blog called Coffee Cups and Crayons.  You can follow this through the new year or simply create your own calendar using some of these great ideas for Random Acts of Christmas Kindness.  I like to include a note letting the person know they've been RACK'd – perhaps they will pass it on!
How to organize and get the kids involved:
Talk to the kids about kindness and how random acts of kindness are so easy yet can really make someone's day.
Decide as a family of you want to follow a calendar or come up with your own ideas and pull one from a jar every day.  See an example that one family did here.
Complete the Random Acts of Christmas Kindness each day and spend time over dinner discussing them as a family.  What RACK was completed that day?  How did your child feel? Is there anything you can do as a family to support or enable the RACKs? Decide on the next day's plan as well.
Discussing the RACK we completed each day has become  a big part of our dinner each night.  It's heartwarming to see my little one get so excited about giving back.  She wants to continue giving even after the holidays and I couldn't be prouder!
How do you give back during the holidays?  How do your kiddos get involved?  I'd love to hear from you!
XO –
Jenn