I love the New Year! It's a fresh start and not only a great time to set goals for the upcoming year, but to reflect on the year behind us.  My husband and I always review what we've accomplished the previous year and set new goals on New Year's Day and now that our daughter Bali is 6, we wanted to get her involved in this family tradition too.
To make things a little more fun, this year, we decided to start a "Good Things" jar to capture accomplishments and positive things throughout the year.  This will be a great tool for us as we reflect back on all that we have experienced and accomplished during the year when 2016 rolls around.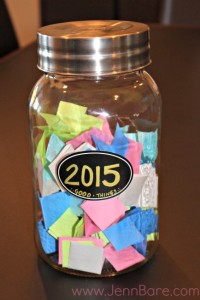 Here's how to make this simple project:
Tools:
Large Ball Jar or glass vase
Paper (I used post-it notes; colorful and easy to fold)
Pen/Marker
Decorative Label
Explain to the family what you are doing and get their buy-in.  This will only be successful if everyone participates!
Label your jar. I simply labeled our families' jar with "2015 – Good Things" but label it as you see fit for your family.
Give each family member their own pad of sticky notes.  I like the idea of giving each person his/her own color.  In a large family, it will be easy to see who needs some nudging to participate. 😉
Advise your family to reflect daily about anything they have accomplished and write it down on paper and place in the jar.  It could be something as simple as "Got an A on my math test." or a milestone like "Got my drivers license." Continue adding notes throughout the year. (and remind the kiddos if you need to!)
On New Year's Day, review the notes as a family.  Use the notes as a catalyst to discuss all that you've accomplished in the last year and what you want to accomplish in the coming year (2016!)
Do you have a family tradition for New Year's Day?  Please share – I'd love to hear it!
XO –
Jenn