September is both Classical Music Month and National Piano Month so I decided to highlight some musical crafts on my Mom Monday TV segment this week.  The best part about this craft? You likely have these items already around the house!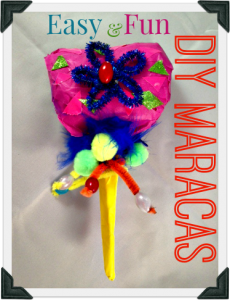 DIY Homemade Maracas:  EASY craft that is fun for kids of all ages!
Items Needed:
– Plastic Easter eggs
– small rocks
– tape
– plastic spoons
– decorations such as pipe cleaners, Bling Tape, ribbons, etc.
Directions:
– Place a small handful of rocks inside a plastic easter egg.
– Close egg and place between two plastic spoons.
– Secure the egg and spoons well with masking tape.
– Decorate and enjoy!
Note: While this finished craft can be enjoyed by kids of all ages, please note that this and any item with small pieces should not be given to a child under 3 years old.
–