September is both Classical Music Month and National Piano Month so I decided to highlight some musical crafts that you can make with items you likely already have around the house.
DIY Rainstick:  A percussion instrument you can easily make at home!
Items Needed:
– Foil
– Empty Shipping/Packing Tube  OR tube from a roll of wrapping paper.
– Rice or beans for sound effects
– Pretties to decorate the rain sticks.
optional: Tape to secure tube ends if needed.
Directions:
– Decorate the tube as desired.
– Twist a long piece of foil and "snake" it down the tube.
– Secure foil in place with tape or by clipping in the lid of the tube.
– Gently pour rice into the tube.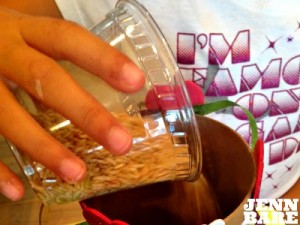 – Close off the remaining end of the tube.
– Turn the tube upside-down to hear the rain effects.
Have Fun!