September is both Classical Music Month and National Piano Month so I decided to highlight some musical crafts that you can make with items you likely already have around the house.
DIY Homemade Drum:  Super-easy to make and lots of fun too!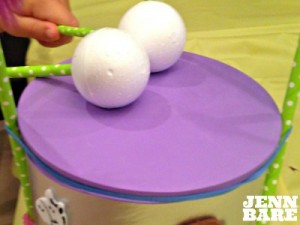 Items Needed:
– Clean, empty container or can (I used empty formula cans)
– Balloon
– Rubber band
– Pretties to decorate the drums
– optional "drumstick" items: paper straw and styrofoam ball (kids can also play the drums with their hands!)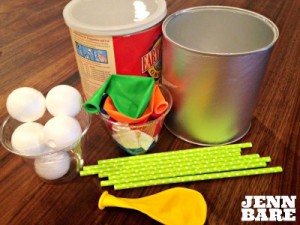 Directions:
– Decorate the cleaned, dried containers you will be using for the drums.
– Blow up balloon DON'T tie it – leave it blown up for just a minute or so to stretch it out then let the air out.
– Cut the long tube portion off the balloon and stretch the remaining part of the balloon over your decorated container.
– Secure the balloon with a rubber band.
– optional drum stick: enlarge hole in the styrofoam ball with a pencil.  Insert paper straw and glue if desired. (I didn't and the drumsticks still stayed together)
– Play your new drum!  I like to incorporate into educational lessons and reading like this Dr. Suess book.  Have the kiddos play along as your read!