Have a few jars around the house? Every salsa, pickle and sauce jar my family goes through gets washed and put aside for an impending craft day.  Use up any jars around your house or purchase some cute Ball Mason Jars and acrylic paint for this easy craft for all ages.
This week is Earth Day (April 22nd) so I wanted to share a cute craft idea that can add a little pop of color to your home (and it makes a cute & inexpensive Mother's Day gift, too!)
Supplies:
Acrylic Paint
Newspaper
Jar with lid (any size)
Directions:
Step 1: Remove lid from jar and squirt acrylic paint inside. Place lid back on the jar (important!!)
Step 2: SHAKE! And then shake some more, and a little more…and more.  You get the point! Use your hand to bang against the jar to help the paint spread evenly.  You can add more paint if needed BUT it will take longer to dry so use extra paint sparingly.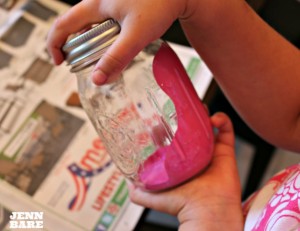 Step 3: Remove lid and place jar upside down on newspaper for at least 1 hour. This will allow excess paint to drip out of the jar.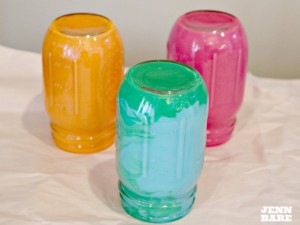 Step 4: Place jar upright and allow to air out overnight (or longer) until it is completely dry.  MAKE SURE the paint is completely dry before adding water or flowers.
Step 5: Pour water as needed in the jar and add your favorite flowers.  Enjoy your vase or gift it to someone special.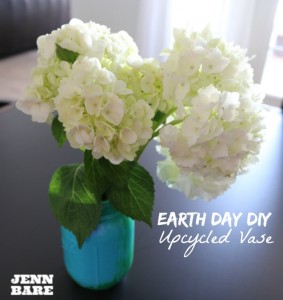 Did you make this craft?  Please post a pic or  a link to your completed craft on Pinterest!
XO & Happy Earth Day!!
– Jenn