It's a New Year and that means you've made some New Year's Resolutions, right?  One of mine is to eat breakfast every day!  I always have the best of intentions, but unless I do a little planning, I seem to run out of time to have something substantial for breakfast.  It is, as we've been told, "the most important meal of the day" so I know I need to prioritize eating breakfast.  I've also had a nutritionist tell me that the best way to fight late-night cravings is to eat a filling breakfast.  So here's to 2015 and eating breakfast every day!!
With a little planning, these easy (and yummy!) recipes can help you and your family start the day off right.
—> View my video explanation and recipe demonstration on ABC HERE!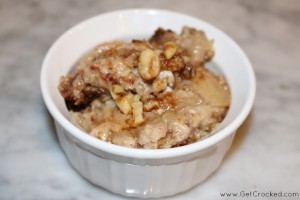 Apples, oatmeal, milk and a bit of butter, brown sugar and honey round out the ingredient list for this delicious Slow Cooker Apple Oatmeal.  I love cooking in my slow cooker and love even more that I can prep this recipe anytime then just place in my slow cooker to heat while I'm sleeping!  I find it most convenient to prep the recipe ahead of time in a buttered slow cooker liner. Then when I'm ready, I simply place the liner in a 4-Quart slow cooker and heat on LOW for 5 hours. I usually use a programmable slow cooker so my oatmeal stays warm until I'm ready for it but I've also been known to set my alarm, place the liner in the slow cooker, turn it on and then go back to bed! 🙂 Oh, and I ALWAYS double this recipe.  It's really that good and you will definitely want leftovers!
Find the recipe for Slow Cooker Apple Oatmeal on my website GetCrocked.com HERE.
One of the best way to get a great start to the day is to load up with fresh fruits and vegetables.  This can be too time-consuming for the morning if you don't prepare ahead of time.  Prep smoothies like this Super Spinach Smoothie ahead of time (up to two weeks) and simple transfer to the blender and mix to enjoy an easy and delicious smoothie in the morning.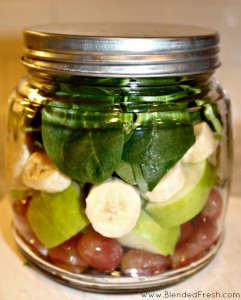 Make-Ahead Smoothie Tips:
– Measure and combine smoothie ingredients including fruits and vegetables in freezer-safe baggies or freezer-safe Ball canning jars. You can freeze them or if using the next day, just place in the refrigerator.
– Slice fruit/veg into small pieces if you're freezing them.  They will thaw and blend more easily.
– Freeze yogurt in 1-2 oz. portions using ice cube trays or baby food prep-trays. Once frozen, you can add to your smoothie prep bags!
– If starting with frozen ingredients, leave the bag on the counter for a few minutes to thaw out a bit before blending. (I place the bag on the counter before I get in the shower.)
A few of my favorite smoothies from BlendedFresh.com:
Super Spinach Smoothie
EASY 5-Ingredient Slow Cooker Breakfast Casserole
You read that right – just 5 ingredients make up this delicious breakfast casserole!  This recipe is super yummy and  very filling.  Prep the night before and let it cook while you're sleeping.  The kids will love this one too and if they are like my daughter, they'll even ask to bring it in their school lunches!
The 5 Ingredients:
1 lb. sausage
1 package hash browns (32 oz. – fresh or frozen)
3 cups of shredded cheddar cheese
12 eggs
1/4 c. milk
The prep is simple for this recipe – brown and drain sausage then alternate layers in a 5-6 Quart slow cooker in this order: hash browns, cheese and sausage, making three layers of each.  Combine 1/4 c. milk with 12 eggs and pour over layers in slow cooker. Sprinkle with salt & pepper, if desired.  Cover and cook on LOW for 6-7 hours.  Put this recipe in a programmable slow cooker right before bed and it will keep it warm until you get up in the morning!
Find the detailed recipe and other slow cooker recipes on my website GetCrocked.com HERE.
Do you eat breakfast every day? What is your go-to breakfast for a busy morning?
xo – Jenn