Pregnancy can be one of the most blissful times in a woman's life and shopping for the upcoming arrival is so fun yet a little overwhelming. Tiny socks, cute little washcloths, that lotion that smells oh so good and all the baby gear one can handle.
I had a 6-year break between having my kiddos (my daughter Bali is almost 7 and Baby Maverick is 10 months).  Boy was I surprised (and excited) about all the new, cool baby gear and gadgets when I was back in the market for baby stuff.   There is one thing I knew this time around: I needed about half as much stuff that we bought with our first baby!  Like all new parents, when I was pregnant with our first child, my husband and I registered for everything from a nasal aspirator to a wipe warmer and even a travel wipe warmer. (Anything for the comfort of our precious baby – right?!)
This time my baby gear goal was simple: less stuff, more functionality.  I learned the first time around less is more and so instead of accumulating one of every item at Babies R Us, I set out to find cool baby gear items that served a dual purpose or that could transition along with baby (or me) as he grew.
Here are some of my favorites!
Satchel, by JJ Cole Collections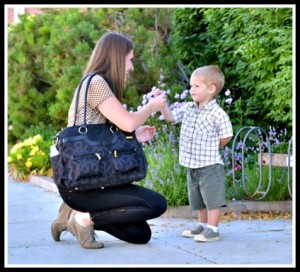 – I love Satchel.  This is not your mother's diaper bag! It's got storage galore, and even a matching changing pad.
Is it a diaper bag or a hand bag? Maybe it's a piece of stylish carry-on luggage for that next flight.  Either, way, this bag is gorgeous, made well and super functional. (You would never know it's a diaper bag) It will be in my rotation far after I need it for baby.
Why I love it: It's stylish and functional and comes with straps to connect to your stroller.  Satchel doesn't look like a diaper bag – use it as a hand bag even when you don't have baby with you!
photo credit: JJ Cole Collections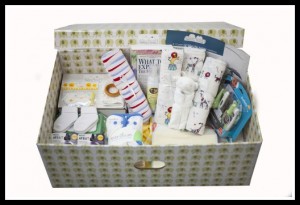 One of the most unique baby gifts I received and now one of my favorite shower gifts to give is a Baby Box.  Inspired from the boxes that are delivered to all expectant mothers in Finland – the Baby Box is a Finnish-style box that comes full of all the items a new mom needs for her baby. The box also comes with a water-proof mattress and duals as a safe resting place for baby. Once baby has outgrown the box, use the stylish box for toy or clothing storage!
In addition to the mattress and sheet set, my Baby Box included new mom staples like muslin swaddling blankets, baby grooming set, organic baby bath products, adorable & soft organic onsies, baby toys, cloth diapers, pacifiers, a knitted cap, and a few other organic products and samples.  We moved a month after my baby was born and he actually slept in the Baby Box for a few weeks as we transitioned into our new home.  I appreciated the fact that I could keep him with me throughout the house as we settled in.
Now my son is 10 months old and my Baby Box has transitioned to his toy box.  It's a super-cute pattern and I love the fact that it has a lid so the toys don't look messy in baby Maverick's closet. 🙂
Why I love it: The Baby Box is unique and practical and it's one of those WOW gifts you'll never forget.  It is also a product with a purpose – the US currently has one of the highest infant mortality rates of any industrialized nation. The Finnish Baby Boxes are affordable and can mean the difference between life or death for some infants. The company does a lot of charitable outreach and donation as a business. For more info: http://thebabyboxco.com/pages/about-us
photo credit: The Baby Box Co.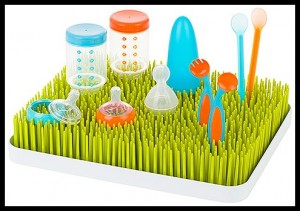 There is a reason this baby item is rated 5 stars with 300+ reviews on Amazon – it's awesome!  The flexible grass-like blades hold all your just washed baby accessories in place until they are dry.
Boon does it right – they make high-quality, well-designed products and Grass is no different.  (I have several Boon products that I love including the Flair highchair and  Naked bathtub.) Lawn separates into two pieces so you can easily rinse and dry it when needed (no trapped water to be found).  It is not only functional – it looks cool too.
Why I love it: This is not just for babies! In addition to baby bottles, I use my Lawn for holding all of my hand-washed items like wine glasses.  At $25, it was a worthwhile investment that I will continue to use even after baby Maverick transitions out of a bottle.
photo credit: Boon Inc.