Halloween is over and your kids have a ton of candy (and maybe you do, too!)  Here are some helpful ideas to make good use of all that sugary goodness we call Halloween candy.
First and foremost, make sure you are monitoring how much candy the kiddos are eating! Keep the candy in a neutral location or in a cabinet they aren't able to reach so that you're aware when they are digging in.  Establish some guidelines – ex: 2 pieces after dinner – and make sure you stick to them!  Candy is okay in moderation, but really, who wants the kids eating it non-stop and bouncing off the walls?
If you need some creative ideas to use up that candy or get rid of it altogether, look no further!
Get a Visit from the Switch Witch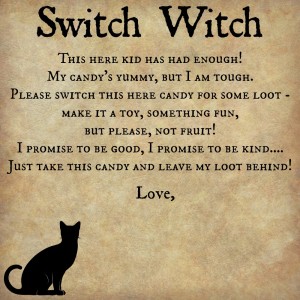 About a week after Halloween, we get a visit from the "Switch Witch."  It works like this: Kids decide they are ready to give up their Halloween candy in exchange for a toy or gift.  They leave their candy out at night with a note to the Switch Witch.  During the night she takes the candy and leaves a present.  This works well because the kids decide they are ready to give up the candy on their own terms and it's an all-or-nothing exchange (meaning they can't keep all the good candy and just give up the stuff they don't want!) This year, the Switch Witch is bringing us the game "Spot It" which will be fun for the whole family!
Incorporate Candy into Learning Activities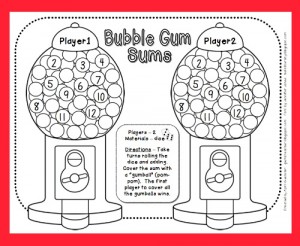 Use candy pieces such as candy corn, M&M's, Skittles, or Smarties as tools for learning games to practice counting, addition and subtraction.  You can have something as simple as the number "100" printed largely on a piece of paper and then have your child count out and glue 100 pieces of candy to the paper.
Another fun game is "Bubble Gum Sums" (see free download below) which allows two children to play an addition game together.  Children take turns rolling dice and adding them together.  They then cover up the corresponding numbers on their "bubble gum machines" with candy pieces. (M&M's work great here!) The first child to cover all his bubblegum pieces wins the game.
Download this free printable  from gwhizteacher, teacher April Guenzler's blog with free and low-cost learning resources.
Bake with Halloween Candy
In general, Halloween candy will last about 6-12 months when stored in a cool, dry place.  Chocolate has the biggest tendency to spoil, so to be safe, you can keep it in the freezer and it will be good for longer than a year (if you can keep it that long without eating it!) Chopped up piece of candy bars like Snickers, Milky Way, Hershey bars, Reese's and M&M's make great additions to baked goods!  Try substituting M&M's for the chocolate chips in your favorite cookie recipe.  Get creative and let the kids help make this recipe for "Leftover Halloween Candy Brownies" from GetCrocked.com.  Use whatever candy you'd like – the kids will have fun making up tasty combinations!
Donate Extra Halloween Candy
If you're one of those people that need to get the candy out of the house or you'll just end up eating it all, don't throw it away.  There are several options to donate your candy!
Many dentists offices will buy candy from kids and pay them by the pound.  Our local dentist will pay kids $1/pound and also donate $.50/pound of candy collected to the local school.  They make a big event of it every year and usually collect several hundred pounds of candy.  They then send the candy overseas to our troops.   Check out the website Halloween Candy Buyback to locate a dentist in your area.
Or, if you'd rather send the candy to a soldier yourself, find instructions here.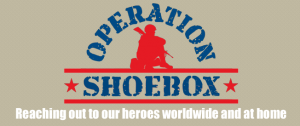 Your local food pantry or homeless shelter would probably be happy to accept any donations as well. (If you go this route, maybe throw in some healthier food donations while you're at it!)
Make Homemade Trail Mix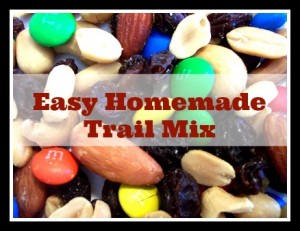 Get together with the kiddos and make homemade trail mix.  This is super easy and a great way to incorporate some healthier ingredients with the candy!  Lay out several ingredients so the kids can pick their favorite options.  Let the kids assemble and save in an air-tight container or plastic bag.  As a rule of thumb, the trail mix should be 50% nuts (any kind), 20% seeds (sunflower, pumpkin, etc.), 20% dried fruit (raisins, craisins or banana chips work well) and 10% candy (like M&M's).  These make easy gifts for neighbors and teachers too!
Save Halloween Candy for Special Occasions
Every year we decorate gingerbread cookies and gingerbread houses at Christmastime.  Guess what we decorate with?  That's right, I pull out the extra Halloween candy I had stashed instead of buying  more candy to decorate with.  Twizzlers, M&Ms, Skittles, Starbursts, and Chocolate (which I usually shave and use for hair) all make great additions to the gingerbread goodies.
Another idea?  Save that candy to fill a piñata for your child's next birthday party.  Be sure to store the candy somewhere cool and dry (and maybe remove any pieces that have special Halloween wrappers!) and the candy should be good for the next 6-12 months.  Many national retailers like Wal-Mart and Party City carry piñatas and they are very easy to fill.
What do you do with your leftover Halloween candy? I'd love to hear your ideas!
xo – Jenn