It's National Noodle Day! If you need an excuse to eat pasta, well here it is!  I'm happy to share this super easy and delicious Slow Cooker Lasagna Soup recipe – one of my family's favorites form my cooking website GetCrocked.com!
I featured this recipe on my segment 'Mom Monday" on ABC 15 – click here to watch me make it along with news anchor Dan Spindle.
Slow Cooker Lasagna Soup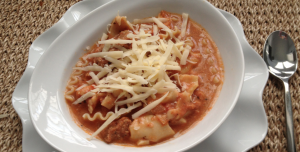 Ingredients:
1 lb. ground beef
1 onion, chopped
10 3/4 oz. tomato soup, canned, condensed
14.5 oz. tomatoes, canned, petite diced
15 oz. tomato sauce, canned
2 chicken bouillon cubes
2 beef bouillon cubes
4 c. water
1 1/2 tsp. oregano
1 1/2 tsp. basil
1 tsp. parsley
2 tsp. garlic powder
1 tsp. salt
1/4 tsp. pepper
8 oz. Ricotta Cheese
8 lasagna noodles, broken into small pieces – UNCOOKED
12 oz. Shredded Mozzarella Cheese
Directions:
Combine onions, tomato soup, diced tomatoes and tomato sauce and place in the slow cooker.
Add all of the spices and bouillon cubes to the slow cooker.
Add water and spread your broken UNCOOKED lasagna noodle pieces all around.
Crumble RAW ground beef over top.
Cover. Cook on Low for 7-8 hours or on High for 4-5 hours.
Approximately half hour or so before done, stir in the Ricotta cheese.
Serve with shredded Mozzarella Cheese on top!
Happy Crocking!
XO – Jenn