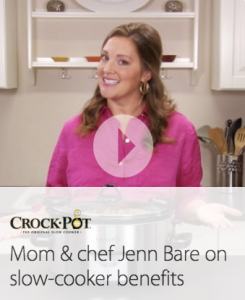 It's Crocktober™ – one of my favorite times of the year!  This past July I visited the Crock-Pot brand team in Boca Raton, FL.  Since I love slow cooking so much, every time I get to visit Crock-Pot it's like visiting the mothership. 🙂  On this visit, I did a bunch of filming including recipes and slow cooking tips & tricks with Crock-Pot slow cookers.
A few of my videos are being featured on the Crocktober™ section of Walmart's website for the month of October!  You can check them out here.
So, did you learn anything new about slow cooking from my videos?  Please let me know what you think!
Thanks for your support & Happy Crocking!
xo – Jenn
PS: Visit my slow cooking website, GetCrocked.com for thousands of slow cooking tips, tricks & recipes!