It's Girl Scout Cookie time! The Super Bowl is over so now it's time to focus on the important stuff – like Girl Scout Cookies! 🙂  If your household is like mine, you have more cookies than you know what to do with.  So what are you you do with all of those cookies?  You can always stick a few boxes in the freezer for later on in the year when you are craving a Thin Mint®. For now though, enjoy one (or all!) of these fun desserts using your Girls Scout Cookies as ingredients.  I made these with my daughter Bali and her friend Stella and we had so much fun.  The girls probably had as much fun making these treats as they did eating them.  Enjoy this fun activity with your kiddos too!
No-Bake Trefoil® Cheesecake Squares 
Trefoils® are that classic shortbread cookie that has been around for ages.  It's simple taste makes a perfect crust for cheesecake in this easy recipe! This recipe needs refrigeration before serving but it stays well in the refrigerator so make it the day before you'd like to serve it.
Ingredients:
Crust:
1 box of Trefoil® Cookies, crushed
6 T. Unsalted Butter, melted
1/3 c. Sugar

Cheesecake filling:
1 pkg. Cream Cheese, softened
1 c. Sour Cream
1 pkg. Cool Whip (thawed)
1/3 c. Sugar
2 tsp. Vanilla
Fresh strawberries for garnish
Directions:
Prepare the crust:
Combine crust ingredients in a bowl and then press into a 9×9 inch square baking pan
Bake on 350  for 7-10 minutes or just until brown (watch closely!
Cool completely while you prepare cheesecake filling.
Prepare cheesecake filling:
Beat cream cheese at high speed to smooth
Continue to beat at medium speed, incorporating the sugar a little at a time
Change speed to Low and add the sour cream and vanilla
Fold in the Cool Whip by hand. Incorporate well but do not over stir!
Pour cheesecake into prepared crust. Cover and refrigerate for a few hours.
Cut into squares and garnish with sliced strawberries prior to serving.
Thin Mint® Parfait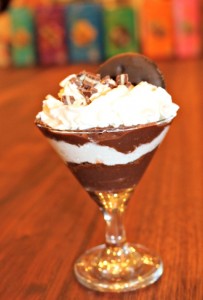 Ingredients:
1 box of Thin Mint® cookies, crushed
Hershey's White Chocolate Pudding (prepared as directed on package)
Mini Chocolate Chips
Andes Mints
Whipped Cream, for garnish
Directions:
Layer ingredients in a martini glass or an individual-sized dessert glass
Top with whipped cream and garnish with a whole Thin Mint® cookie.
Do-Si-Doh® Truffles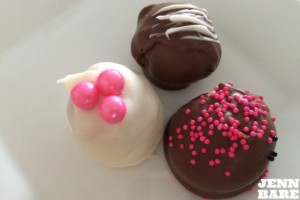 Ingredients:
1 box of Do-Si-Doh® cookies
1 pkg. Cream Cheese, softened
Dipping Chocolate
Sprinkles, for garnish
Directions:
Place cookies and softened cream cheese in a stand mixer on medium speed
Once started, increase speed to high until cookies and cheese are well blended
Refrigerate dough for at least 30 minutes to firm
Using a melon baller, scoop firmed dough and roll into 1-inch balls
Refrigerate dough again while preparing dipping chocolate
Prepare chocolate according to directions on container (note: you can find the dipping chocolate in baking aisle at grocery and sometimes the produce section too)
Use a toothpick to dip firmed truffle dough balls in chocolate and place on parchment paper.
Add sprinkles right away, while chocolate is still tacky.
Store finished truffles in an airtight container.  There is no need to refrigerate!