I love St. Patrick's Day!  My best friend from childhood comes from a big Irish family so I've attended many-a-St.Patrick's Day gatherings over the years! There aren't always so many healthy food and beverage options during St. Patrick's Day so this year I decided to make  a few.
First up: this super cute and fun Rainbow Fruit Tray (with a pot of gold at the end of the rainbow!)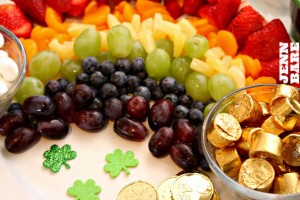 Okay, so maybe the Rolo caramels aren't healthy, but at least the fruit provides a fresh plant-based option to accompany that corned beef & cabbage and Guinness. 🙂
You could also change this up and make it a veggie tray, or fruit & veggies tray!
For my fruit tray I used:
Red: Strawberries
Orange: Mandarin Oranges (Little Cuties pieces would work great, too!)
Yellow – Pineapple tidbits
 Green – Grapes (kiwi is a great option. I left it out b/c we have a family allergy)
Blue – Blueberries
Purple – Purple Grapes (be sure to get seedless!)
Marshmallows make a cute "cloud" formation on one side of the rainbow and Rolo Caramels make up the "pot of gold."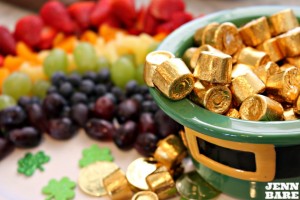 Happy St. Patrick's Day!
Are you making any fun goodies for a St. Paddy's Day party??
XO – Jenn