On my quest to find a healthier option for the beloved fast-food "Shamrock Shake" I recently started recipe experimenting in my kitchen.  This is my new go-to! It's not something you want to enjoy every day BUT it is a much healthier option to a fast-food milkshake that may have tons of sugar and artificial ingredients. Enjoy!
Healthier "Shamrock Shake" Recipe:
1 c. Frozen Greek Vanilla Yogurt
1 c. Fresh Baby Spinach
10 Mint Leaves
Splash of Milk
1-2 tsp. Honey (optional – make it without first, then blend in if you'd like it sweeter)
Add all ingredients to a blender
Blend on smoothie setting (or pulse) until well combined.
Garnish with a mint leaf to serve.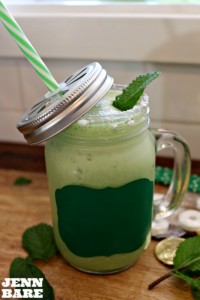 Have you made this recipe yet? I'd love to hear how you liked it!
XO – Jenn