We've all been there…. unpacking the kids after school, you go to put the lunchbox away and bam – you're hit with a full lunch box!  "Didn't you eat?" you say and your little one responds with a "I didn't have enough time." or "I wasn't hungry."
Video for this post HERE: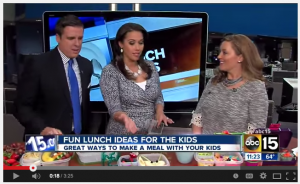 This had been the case for me earlier this year and I was growing increasingly frustrated.  I worked hard to pack a healthy variety for my daughter Bali (6) but more often than not, she'd come home with a lunch bag at least half full.  Yes, it could be the fact that she only has 20 minutes to eat lunch or maybe because lunch is at 10:45 but I wasn't buying those excuses.  I decided to get to the bottom of it. (Besides, when are kids NOT hungry??!)
After a few probing conversations and eventual pleading with my daughter, she revealed the truth – It turns out my "healthy variety" wasn't such a variety after all! (sad face)  I was in a rut… school lunches and recess snacks were the same delicious menu items I had been offering at home.  Organic fruit snacks, yogurt tubes and PB & Honey were not going to cut it anymore!  So I did what anyone should do when trying to please someone.  I asked my daughter what she wanted; what would make her happy.  The answer may surprise you.  She didn't want Doritos®, Fruit Roll-Ups or candy in her lunch – she wanted something FUN.  (Lunch, FUN? What??)
FUN – I can do FUN! So I set off on a quest to make lunch fun again for my daughter.  After all, I'm a mom, I want what's best for my daughter and I certainly want her to have enough energy to learn and be alert in school!  I wasn't going at this alone though.  I told her she'd have to help me.  So we actually brainstormed and came up with what I think are some pretty darn cute ideas.  Check them out!
Letter Theme Lunch 

Perfect For: Your kindergartener studying a new letter each week OR your grade schooler who wants to challenge you with a new letter each week. 
Example:
Letter "B" themed lunch:
Butterfly cut-out sandwich, Broccoli, Baby Carrots, Berries, Blackberries, Blueberries, Bananas – you get the idea! See my B-themed lunch here: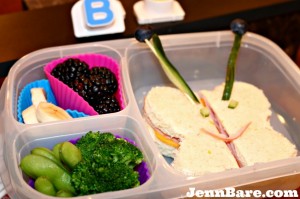 Breakfast for Lunch
Perfect For: Your kid who loves pancakes.
Note: It's totally possible that at some point I may have bribed my daughter with pancakes. Breakfast for Lunch at school may be one of those times. 🙂
Examples:
All-American Breakfast Lunch:
Sliced hard-boiled egg, English muffin, Bacon, Fresh Fruit
Deconstructed Breakfast Burrito:
Tortilla, Scrambled Eggs, Bacon, Cheese, Potatoes with a side of Salsa.
It's McLunch Time: (Not to be confused with McGriddle)
Crepes (make your own or buy pre-made in the produce section), Sausage link, Fried Egg, Cheese with a side of maple syrup.
Note: Wrap in foil and keep warm in a pouch like this one from Warmables.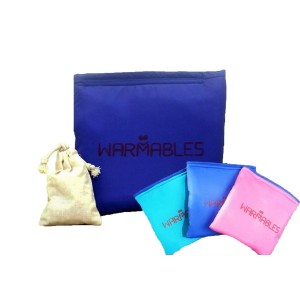 Sushi (Mock Sushi) Theme Lunch
Note: My daughter loves sushi. She is an expensive date.  She will eat your neighborhood sushi restaurant out of Yellowtail. This "Mock Sushi" lunch idea is brilliant on my part (according to my accountant). That is all.
Perfect for: Your kids who loves sushi, Your kid who wants to love sushi, Your kid studying Japan.

Examples:
Dragon Roll:
Your favorite sandwich toppings on a tortilla rolled and sliced to make "sushi rolls." Drizzle with honey or preferred condiment and use thinly sliced cucumbers, celery or carrots to create the scales.  Peanut Butter creates the perfect stickiness to hold pomegranate seeds for the dragon's eyes.
PB Banana Roll:
Banana + Peanut Butter, roll in Rice Crispies and slice. + Honey Dipping Sauce.
Aha – It's Grapefruit! (not Ahi!):
Thinly sliced grapefruit looks eerily similar to Ahi Tataki. Trust me – this will get your kids to eat grapefruit!
Kiwi Strawberry Sushi:
Thinly sliced kiwi and strawberries create perfectly pretty sushi when placed atop white bread smooshed and rounded to the perfect mite-sized circle.
Note: For the ultimate surprise, stick some mochi (sweet Japanese rice cake) in junior's lunch box.  You can find mochi at Asian groceries or often times, as a topping choice at soft-serve yogurt shoppes. Oh, and remember the chopsticks!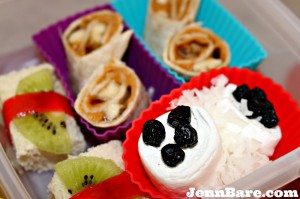 Rainbow Theme Lunch
Every once in awhile my daughter and I will challenge each other to eat at least one thing from every color of the rainbow. Yes, you read that correctly.  No, we don't stick to ROYGBIV order. 😉 This helped us come up with one of Bali's now-favorite school lunches – Crudités! There are so many good options here for healthy fresh fruits & veggies!
Red: radishes, cherries, cherry tomatoes, red pepper, strawberries
Orange: carrots, cheese, orange slices, mandarin oranges, cantaloupe, sweet potato
Yellow: Corn, banana, lemon, yellow pepper, pineapple, cheese, golden beets, heirloom tomatoes
Green: broccoli, green beans, peas, honeydew melon, avocado, snap peas, cucumbers, kiwi, grapes, celery
Blue: blueberries, blue corn chips
Purple: Eggplant, grapes, blackberries, cabbage, beets, purple cauliflower
TIP: Be sure to include a variety of dipping sauces like this hummus or ranch dip in single-serving packs.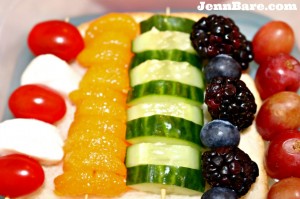 Bento Box Lunch
We love our bento box! HERE is the one I ordered – by Yumbox.  I love that the compartments are labeled and sized based on proportion measurements.  It helps keep me accountable to what I'm packing and has helped lead the way to a discussion on portion control with my daughter.  Now I just need to get the cooling pouch and I'll be all set! (I really thought I could reuse our previous refrigerated bag, but it's not really cutting it.)
Some of our most recent Bento Box shenanigans include the cutest ever animal sandwich cubes.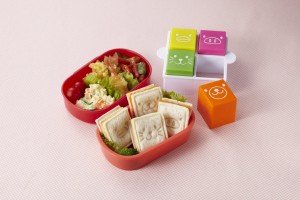 I'm also in love with these cute cutters to create tiny cheese, meat, or veggie shapes. (Oh, and they also make the world's smallest sugar cookies. – Bonus!) Note that for smaller veggies like carrots, slice at an angle to increase surface size so that its big enough to fit the cutter.
UPDATE: See explain some of my favorite lunch ideas in detail on ABC15 in Phoenix HERE