One of the things I love most about summer is that it's strawberry season! Sure, nowadays we can get strawberries all year long but there is something to be said about the plump, juicy, sweet strawberries we can get in the summer.  Naturally, I do a lot of creating in the kitchen with this delicious fruit and 4th of July is no exception!
These "All American" White Chocolate Strawberries are very easy to create and will add a creative flair to your next BBQ – whether it's America's independence day or any day.  Enjoy!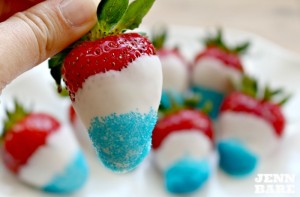 Ingredients:
Strawberries (washed & dried)
White Candy Quick
Blue Sprinkles or sanding sugar
Parchment Paper or Wax Paper
Instructions:
Heat the Candy Quick according to package directions.
Prepare sprinkles – put them in a small, shallow bowl.
Carefully dip a strawberry (about 2/3 up) into the melted white Candy Quick.
Immediately dip the bottom half of the candied white portion of the strawberry into the blue sprinkles.
Place the strawberry onto wax or parchment paper to cool.
Repeat with remaining strawberries.
You should end up with strawberries that have equal parts red, white & blue.  Serve at your 4th of July party or anytime you want to have a sweet treat.
xoxo
– Jenn