What 4th of July Celebration isn't complete without a few fun cocktails to accompany the BBQ and all those yummy treats from the slow cooker?  This fun & easy 4th of July Hurricane will wow everyone with it's presentation. Your party guests won't have to know just how easy they are to create!  Just a few simple ingredients make up this delicious drink.
Ingredients:
Strawberries
Simple Syrup
Cream de Cacao
Blue Hurricane Mix
Decorative straw
Directions:
Muddle 3 strawberries & simple syrup in a cocktail glass. (Note: start with a bout 1 tsp. of syrup and add more if needed – it just depends on the sweetness of your strawberries.)
Add ice, filling glass all the way to the top.
Use the back of a spoon to slowly and carefully add the Cream de Cacao to create the white layer. (the spoon "breaks the fall" to prevent the layers from mixing.
Finally, add the blue layer – the hurricane mix.  Again, use the back of a spoon to slow down the liquid so it can sit on top of the Cream de Cacao.
Carefully add a straw and serve to your super impressed party guests.  Happy Birthday, USA!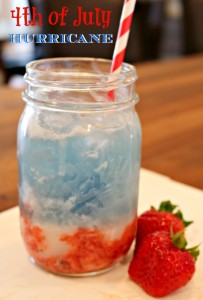 – If you make this cocktail, I'd love to see it! Upload pics to Instagram and tag me – @jennbare.
xoxo –
Jenn