Is your dad a snacker? Or are you trying to get Dad to eat a little  healthier? This easy low-cost option is a fun Father's Day gift that the guy in your life might enjoy!  I used a combination of sweet and savory snacks and you can easily sub healthy snacks if that's what you'd prefer.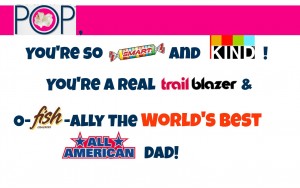 Materials:
6 pack of glass bottles (can be purchased at a craft store, or save clear soda or beer bottles!)
Snacks of your choice (I used Smarties, KIND granola, Trail mix, Baby Goldfish, red, white & blue M&M's and Popcorn. You could also use soda to represent the "Pop!")
Paper & Printer
Instructions:
Fill each bottle up with one snack.
Secure bottles with caps (you can purchase home brewing bottle caps) or use plastic wrap and decorative ribbon.
Create a printable or download and print the one I created HERE.
Secure label to 6-Pack container
Present to your Smart, Kind, Trailblazing, All-American Dad!
Happy Father's Day! What are your Dad's favorite snacks?
xo –
Jenn