Looking for a fun, easy, and inexpensive DIY project to do over Spring Break? How about this Shamrock Handprint Art?  Pick up a few canvases at your local craft store and put the kiddos to work!  This will make  a nice addition to the playroom wall or as a gift to grandma & grandpa.
Supplies:
10×10 Stretched Canvas (many craft stores have multi-packs)
Washable Green Paint (I used Tempura)
Sponge or wide paintbrush
Paper to practice
Wet Towel or baby wipes
Lay out supplies.
Make sure the kids have clean, dry hands. (sometimes easier said than done!)
Pour paint on a paper plate.
Paint the palm of child's hand (one at a time!) with the sponge or paintbrush.
TEST: Have her/him press the hand, in one motion on your test paper.
Lift the hand off, going straight up.
Repeat with the other hand(s) making four handprints in all.
Once you are confident everyone knows what they are doing, follow the steps again but this time on the canvas. 🙂

Paint a "stem" coming from the bottom of the shamrock.
Let dry completely then add names and ages of your kids. You can even add a "Happy St. Patrick's Day" with the year on top.
The design is up to you – you can have each child do their own canvas, have each of 4 children add one handprint, or  a combination.  My baby wouldn't sit still so I just used his thumbprints to make a baby shamrock. 🙂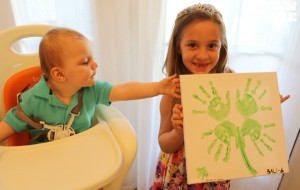 If you make this, I'd love to see your finished art. Post it on Instagram and tag me, @jennbare!
Happy St. Patrick's Day!
XO – Jenn