It's that time of year when holiday parties are aplenty!  Whether you are entertaining a crowd or just hosting an intimate family gathering, I've got some suggestions for you to ensure your guests don't go thirsty this holiday season.
Always have extra drinks on-hand in case more guests arrive than expected and remember the non-drinkers and kiddos too!  Prepare as much as possible ahead of time and consider hiring a bartender to take care of things so you can enjoy the party and your guests as well. Have the phone number for a local cab service or call an Uber car for guests who have enjoyed your cocktails a little too much. 😉  Have fun!!
Hot Chocolate Bar: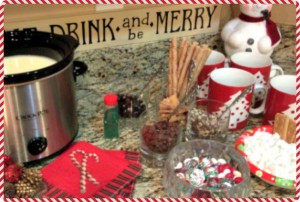 Entertain the kiddos at your holiday gathering with a hot chocolate bar!  Make your favorite hot chocolate or a recipe like this Snow White Hot Cocoa (from my slow cooking website, GetCrocked.com) and let guests top their own drinks.  Some suggestions: peppermint bark, chocolate sprinkles, Andies Mints pieces, marshmallows, whipped cream, toffee bits, candy canes, or rolled wafer cookies like these Creme Filled Pirouettes. This is a Christmas Eve tradition with my family.  The kids look forward to it all year!  I've even added a little Bailey's Irish Creme to the white hot cocoa in my mug. 🙂
Christmas Cocktail: Mistletoe Martini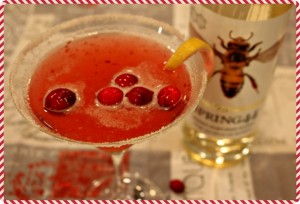 Whenever I host a gathering I like to have  a theme drink or a special cocktail of the evening.  This year, I'll be serving "Mistletoe Martinis" a drink I created using one of my favorite liquors at the moment – Spring44 Honey Vodka.  (Yes! Honey + Vodka = yum!)
What you need:
Spring44 Honey Vodka
Cranberries (fresh, from the produce department at your local grocery)
Honey, agave syrup or simple syrup
Sprig of Mistletoe, for garnish Twist of lemon
Sugar
Martini Glass
To Make:
Muddle Cranberries and a bit of simple syrup and add to a cocktail shaker filled with ice.
Pour 3-4 oz. of Spring44 Honey Vodka over top.
Cover shaker with lid and shake for about 15 seconds to mix ingredients well and to create a nice froth.
Place 3-5 cranberries in the bottom of a sugar-rimmed martini glass.
Pour honey vodka mixture from shaker over top.
Top with a splash or two of your favorite cider beer (I like Angry Orchard)
Garnish with a sprig of mistletoe or a twist of lemon to serve. (kissing optional!) (NOTE: Apparently mistletoe can be poisonous so, better safe than sorry – hang the mistletoe and leave it out of your drink!)
Holiday "Mocktail"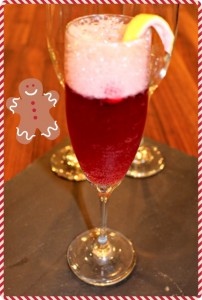 Don't forget the non-drinkers and designated drivers at your holiday gathering.  Offering a fun and creative non-alcoholic drink is a great way to include everyone and is fun for the kids, too.  My 6 year old daughter Bali and I created the "Fa La La" (named by Bali!) for this year's holiday party.
What you need:
POM juice (or 100% pomegranate juice)
Lemons
Fresh Basil
Lemon-Lime Soda (like Sprite)
Champagne flute
Cocktail Shaker
To Make:
Place a few sprigs of fresh basil and a squeeze of lemon on ice in a cocktail shaker
Pour 1.5 oz. of POM juice over top
Cover with lid and shake for several seconds to create a nice froth
Place a few cranberries in a champagne flute
Pour shaken POM juice into champagne flute
Top with a  splash of lemon-lime soda
Garnish with a twist of lemon and fresh basil
What are your favorite drinks to serve over the holidays? If you make any of these, I'd love to hear your feedback.  Let me know what you think!
Happy Holidays!
XO –
Jenn
See more here: