I love the idea of incorporating edible items into table decor or using food to create something fun to spice up a buffet table.  This year I'll have this Turkey Fruit Bouquet at my buffet table.  You could also use it as a center piece for your dessert table or at the kids table.
It looks complicated but it's actually very easy!
Here's what you need:
Butternut Squash
Peppers – 1 each of red, yellow, orange
Fruit of your choice (I used grapes and berries)
Bamboo skewers (found in cooking aisle at the grocery)
Cheddar Cheese
Dried Blueberries or other fruit for the turkey's "eyes"
toothpicks
1 pear for the "head"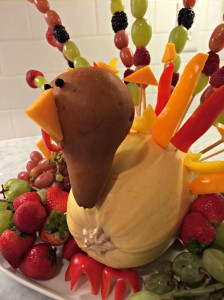 Instructions for assembly:
– Wash and prepare fruit
– Soak the bamboo skewers for a few minutes in water (prevents splinters)
– Skewer fruit (whatever you want on top needs to be skewered first)
– Arrange fruit skewers in squash as the "feathers"
– Cut peppers into slices and to a point at the end.
– Using toothpicks, arrange peppers in front of the fruit skewers (as another layer of "feathers")
– The toothpicks will still point out of the top of the peppers.
– Right before displaying, cut cheese into small triangles and place on toothpicks sticking out of peppers. (It will dry out if you cut it too early, so wait until your guests arrive)
– Cut "feet" shapes for the turkey and place in front of the squash.
– Arrange additional fruit and/or veggies around the turkey fruit bouquet to help keep it steady and for people to eat.
Will you make a fruit bouquet or some other edible arrangement on Thanksgiving? Let me know!
Happy Thanksgiving!
XO – Jenn